UPDATED: Now with more words!! And a GIVEAWAY!!
See below.
My precious
Dawn
, with
MGM
and
HBM
in the background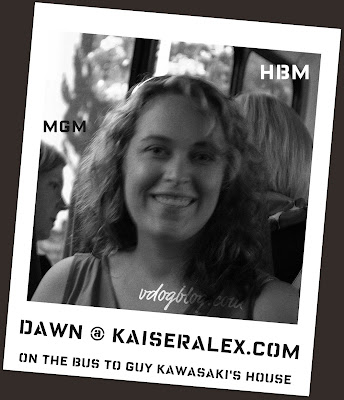 Liz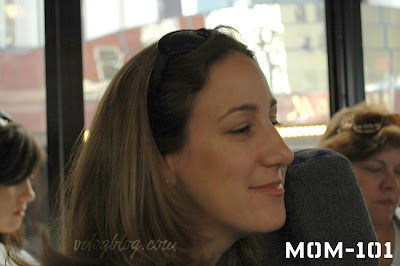 Laid-Off Dad
Kristen
Christine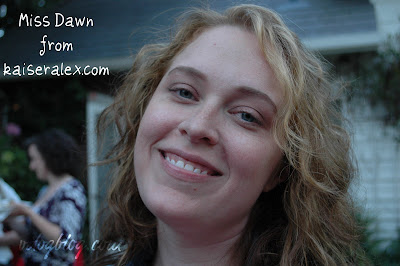 Casey
So first Christine, Dawn and I get on a bus to go to
Guy Kawasaki
's house and we are surrounded by super famous mommy (and one daddy) bloggers. I impressed Dawn and Christine by "knowing" Liz, Kristen and
Andrea
and getting hugs from them and stuff. Yes, I am teh awesome. (HA!)
Then we take a long-ass bus ride
thirty miles
away, because the bus driver
totally
doesn't know where he's going, even though I was all,
we're not headed in the right direction!!
So yeah, it took us an hour and twenty minutes to go
thirty miles.
Yeah, we're
special
like that.
We finally arrive and the woman who I will find out
two days later
is
White Trash Mom
and her cohort
Slacker Mom
are acting all Cracker-ish and super cute, and we like,
totally love them
.
We mix and mingle and ogle the bigs-ups and talk to
BOSSY
and
Greeblemonkey
, and best of all
MRS. FLINGER
!! because she promised to lick us, and she ditched us and took the previous bus when she was supposed to come with
us
so we had to give her shit for that. (OMG, run-on much?) I can't remember the rest. And it wasn't the wine.
I swear.
Then I ran into
Eve
, and was all, "ZOMG!! WTF are you
doing
here??" Cuz I like,
totally knew her
in a previous life.
It was getting towards eight and we wanted to make sure we headed back to
thirty miles
from
Guy's
house
(he twitpic'd me! woot!)
so that we could make the newbie and People's Parties. So we grabbed our
swag bags
(each bag was different, so I didn't get
all
of that stuff, just most of it) and hightailed it back to the bus. Luckily this time it only took
slightly
more than
thirty minutes
to reach our destination.
That concludes the first
four h
ours
of BlogHer08.
Next up: CARL!! Newbie party & People's Party.
GIVEAWAY!!! I have ONE picnik premium account to give away. Just leave a comment on this post by midnight PST Thursday and I will pick a winner at random. You must NOT have attended BlogHer to win. Cheers!