This week Cracker #4 and her betrothed (heretofore called Cracker #4.2) got married.
I did the Bride's makeup: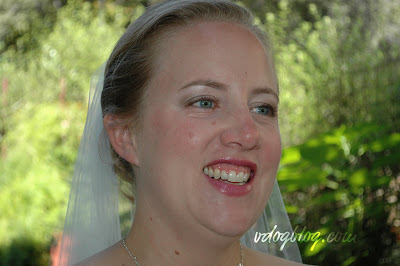 (No, that wasn't any pressure AT ALL!!)
(Girlfriend NEVER wears makeup, so the challenge was to have her look HAWT without everyone being all WHOA! You're wearing MAKEUP!!)
The Crackers #4 looked so IN LOVE
The Little Man was the Ring Baby. Without a pillow. Or rings.
He had a lot of fun.
Holla at yer gurl
They danced to that song from Juno.
It was an awesome Wedding, and I couldn't be happier for the Crackers involved! Congrats to Cracker #4.2 and Best Wishes, Cracker #4! We love you!!
(An extra special thanks goes out to Cathy at McCathy's Tub for letting the Little Man borrow Quinn's fancy pants outfit! w000t! to you, girlfriend!! xoxoxoxo)